Srila Guru Maharaj had seen me, and it was my good fortune that he was very much attracted to me. He was searching for some boy who in the future could be like a guru. He had a formula. The particular boy would need to be a Brahmin, intelligent, etc. with that potential to be like a guru. At that time Srila Guru Maharaj was searching for someone to groom to continue his disciplic succession. When he saw me he tested me. He called Srila Krishna das Babaji Maharaj and other of his friends, and asked them to also test me.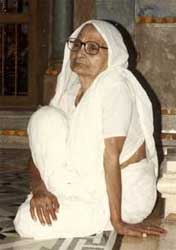 They each gave Srila Guru Maharaj a very good report about me. Amongst those was Srila Guru Maharaj's sister, Rama Didi, who is still residing here at the Math [this was spoken in 1998 - Ed.]. She remembers everything. Rama Didi said to Guru Maharaj, "Yes, I think this boy is very good." Srila Guru Maharaj also asked her, "Rama Didi, you see this boy; will he be good or bad in the future?" Rama Didi said, "The future, I cannot say, but now he is looking good."
In the beginning I was a little bit suspicious as to whether I had done wrong or right. I was a young boy and already I had made the step to leave home and join the Math, but that was done really by emotion, not devotion. At first I was very unhappy, but later when I got the mercy of Srila Guru Maharaj, I became very happy.
Anyhow, after about one month, we went with Srila Guru Maharaj to Midnapore District. Midnapore is where Sripad Jajavar Maharaj's Math is. At that time Srila Guru Maharaj came close to declaring that if he can train this boy, he will become his successor. Then some friction came from our Math's brahmacharis, even with that brahmachari who read Bhagavatam to me and who previously liked me very much and took me with him many times. Hearing Srila Guru Maharaj's expression everyone became very envious and my fighting life started from that day.
From Midnapore we presently went to Puri with Srila Guru Maharaj for the Ratha Yatra programme. We had fifteen days in hand and Srila Guru Maharaj sent us to a district called Ganjam for preaching.
After that preaching programme, a particular brahmachari did not want to take me on to Puri for Ratha Yatra. Srila Guru Maharaj was very angry. He sent a telegram to him to bring me immediately. Actually, we only arrived on the Ratha Yatra day and Srila Guru Maharaj chastised that brahmachari: "He is a new boy and has not seen Ratha Yatra before. Why did you not want to give him a chance to see the Ratha Yatra?" In this way he heavily chastised him.