All Glories to Sri Guru and Sri Gauranga

Sri Vyasa Puja Festival
at Srila Govinda Maharaj Seva Sangha
Srila Govinda Maharaj Seva Sangha - Porto Alegre - Brazil

December 25th 2007
Webpage by Partha Sarathi Das. Captions by Shiva Nandini Devi Dasi


Under a tent at the gardens, the ladies group led by Rasa Bihari D.D. (standing, wearing white) and her daughter Rukimini D.D. beside her making garlands with some guests. Some of them came from other cities and states within Brazil. At right they are visiting the goshala to play with little bull Nandi.
Anandini D.D. and her daughter Lila D.D. posing for Srila Gurudev. A group of devotees go on Nagar Sankirttan, chanting the glories of the Holy Names.
Partha Sarathi Prabhu leading the Harinam Sankirttan, beside Aditinandan Prabhu and Shiva Nandini D.D. Behind, Ananga Mohini D.D., Rukimini D.D. and Rasa Bihari D.D. Back to the Temple...
...and Gaura Aroti begins, with bhajans and kirttans, followed by Guru-puja and a class, and then, time for Maha-prasadam!
At the end of this lovely meeting (left), plus a delicious chocolate cake (right), especially cooked for Srila Gurudev by Doris, one of the ashram's residents (Shiva Nandini's mother).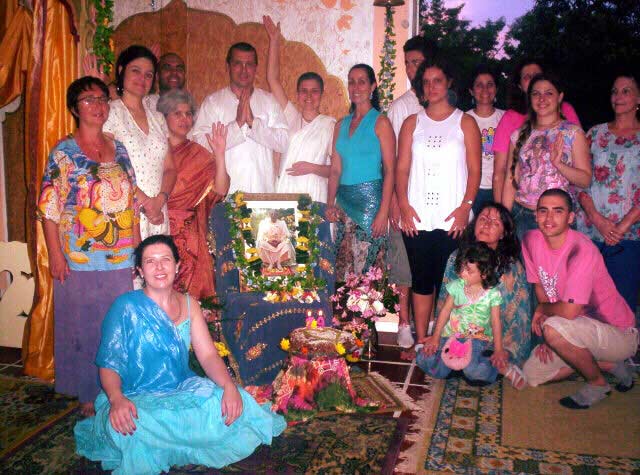 Jay Srila Gurudev! Please accept our humble offerings, and thank you!
All Glories to Srila Bhakti Sundar Govinda Dev-Goswami Maharaj!
Nitai Gaura Premanande! Hari Haribol!


---
Srila Govinda Maharaj Seva Sangha
Estrada Chapeu do Sol, 620 - Belem Novo - Hipica