A Recent Interview with Hasyapriya Prabhu by Sushila Devi Dasi
Sushila: Why do you want to redevelop the Seva Ashram?
Hasyapriya: Trying to serve the expressed desire of Srila Govinda Maharaj, our goal is to legally develop the Ashram to support our current activities and to increase the facilities to better serve the devotees. Srila Gurudev has said that these developments would be pleasing to the Deities and to himself.
Please tell us about the guesthouses.
Govinda Maharaj has transcendental vision for the service of the devotees. When Srila Gurudev visits we want to properly serve the needs of devotees who travel here from around the world. He has suggested that each bedroom have some privacy and it's own bathroom. We are building accommodations that are personal and suit the needs of devotees. So the plans include 4 guesthouses with 6 to 9 bedrooms each. They will accommodate weekend as well as month-long visits, and house the full time servitors who want to live here and dedicate themselves to Srila Govinda Maharaj's mission.
Can you tell us about Srila Gurudev's new quarters?
Srila Gurudev has expressed that he desires a larger room for meeting with his friends and disciples. Our plan provides a room similar in the size to his Darshan room in Nabadwip.
How has Srila Gurudev been involved in the project?
At times he has directed the small details, and at other times he gives encouragement and overall direction. In 1997 we presented our first plan to Srila Gurudev in India and the next day he took me to his friend who is an engineer and whose daughter is an architect. They developed the first comprehensive design. Srila Govinda Maharaj advised them on the size of some of the rooms and other points. I remember he said the verandas should be 8 feet wide so that there is room to seat and serve prasadam during big festivals.
This project requires a lot of money; where will it come from?
The real answer is: "We don't know, but we have faith that it will come". Our devotees and friends are helping in whatever way they can. During Christmas-time devotees were selling cookies, maybe 1 or 2 hundred dollars worth of cookies in an evening. One person came to a cookie table and gave a donation of $6,000; so anything is possible.
We live in the land of miracles where Krishna can make anything happen. Krishna's will is expressed by Sriman Mahaprabhu's coming to spread the Holy Name among the most fallen, and Srila Govinda Maharaj is the pure representative of Sriman Mahaprabhu. Srila Govinda Maharaj's desire is to manifest Sriman Mahaprabhu's plan, and through his backing some miracles may come to us.
A young child of one of the devotees in our community saw a presentation on this project and immediately donated a dollar. Others are giving 10 and 20 thousand dollars. Some are working with our painting business to generate income. We are all born with some capacity but when we are serving under the guidance of a pure devotee, through his potency, we can exceed our natuaral capacity (karma). That power can come to us in all different ways.
Click here to make a donation right now!
http://www.sevaashram.org/development/donate.html

When will this project be completed?
Srila Govinda Maharaj asked: "Will this happen in my lifetime?" Our prayer is to build this ashram under his guidance and to present it to him personally. With the help and blessings of all the devotees everything is possible.
How far along are we?
We have to submit an application to Santa Cruz County for a permit to develop the property. We have been working with engineers, architects, consultants, and other professionals to create a unified plan that addresses the County's concerns.
Next we share the plans with our neighbors for their feedback. One of our neighbors told me: "When I come home from work and relax on my porch, I hear the chanting in the background and think how lucky I am to live here"; so we are hopeful for our neighbor's support.
What is next?
In the month of April, we are trying to raise another $35,000 as many expenses still remain. So we are asking everyone to assist us with contributions so we can finish the application process. I wish to thank everyone who has helped already and thank you all in advance for doing all you can to assist this project. Jaya Gurudev!
How do you see this project benefiting Santa Cruz?
Santa Cruz County is famous for being a center of spirituality. The local mountains are filled with communities of all types including Buddhists and Christians. For at least 100 years the Seventh Day Adventists have had a large project on Old San Jose Road, very near to our Ashram.
Santa Cruz residents and the devotees who have been attracted here have a unique spiritual style. I think the beautiful land of the Seva Ashram with the hills, trees, water, and wildlife combined with the spiritual practices as taught by our beloved Srila Gurudev, and the devotional mood of the Vaishnavas is the perfect fit for Santa Cruz.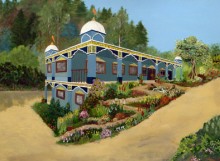 A rendition of Srila Gurudev's new quarters.
Painted by Sushila Devi Dasi