All glories to Sri Guru and Sri Gauranga

Sri Nabadwip Dham Parikrama
of Sri Chaitanya Saraswat Math
Adhivas Festival
16 March 2008

Text by Malini Devi Dasi
Pictures by Malini Devi Dasi and Dhira Krishna Prabhu
---

Introduction

Since my arrival back in Nabadwip from Dum Dum Park in Kolkata with Srila Gurudev Srila Bhakti Sundar Govinda Dev-Goswami Maharaj on Friday, 14th March, I have been feeling exhilarated by the energy pulsing in anticipation of the great annual festival celebrated at Sri Chaitanya Saraswat Math for the auspicious advent of Lord Sri Gauranga Sundar.

I usually dread crowds. Even two days before the Sri Nabadwip Dham Parikrama Adhivas Festival, the compound of the Math is swarming with people - but spirits are high and it is contagious! To add to all that, thousands of lights decorate the trees and the Temples, increasing the festive atmosphere.

The number of pilgrims coming to the Math steadily increases, with busloads arriving in the following days. They are armed with small bags of personal belongings and perhaps a mosquito net, aware of the prospect of sleeping outdoors, either beneath the many make-shift shelters provided by the Temple, or in any space available in the nat-mandir and other buildings. The five storey guesthouse built last year is not only full, but the corridors are brimming with devotees and aspirants too!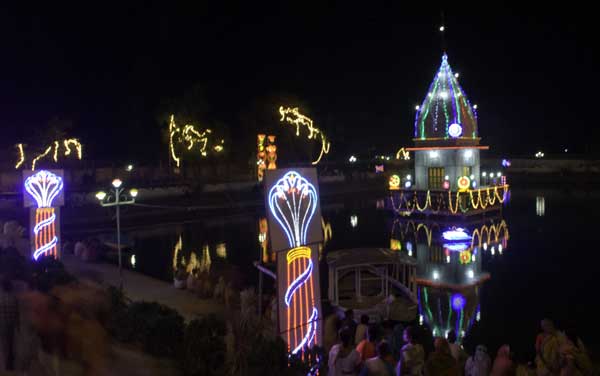 Sri Nabadwip Dham Parikrama Adhivas

At last, Sri Nabadwip Dham Parikrama Adhivas, the eve of the commencement of the Nabadwip pilgrimage, arrives. Srila Gurudev, Srila Bhakti Sundar Govinda Dev-Goswami Maharaj, comes to the nat-mandir in the afternoon, to officially inaugurate the grand holy celebration of Mahaprabhu and the worldwide gathering of distinguished Vaisnavas, the Sri Visva Vaisnava Raja Sabha.

The audience is captured by Srila Gurudev's holy presence. He speaks briefly in Bengali, and a little in English, about our celebration of Sriman Mahaprabhu's advent day and this worldwide gathering which is more magnanimous year after year. Sripad Goswami Maharaj, at the request of Srila Govinda Maharaj, adds a few words in English.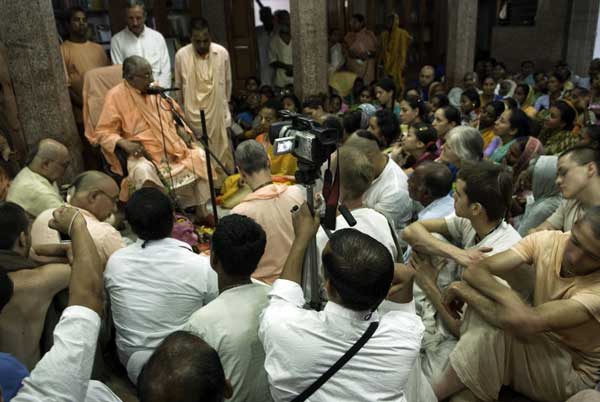 Srila Gurudev sings Goptrtve Varana (Ki jani ki bole...) and Dainyatmika (Emona durmati...) with full participation from the dedicated audience, who are feeling truly inspired for the upcoming events. The nat-mandir is jam-packed with people and this year's festival promises to surpass all precedents.
Srila Govinda Maharaj exits the nat-mandir while a kirttan kicks up within. He takes a ride on his scooter through the prettily lit-up compound. The lights create an incredibly festive atmosphere. Some devotees follow Srila Gurudev in a playful mood. Like everybody else, I am in high spirits and count myself truly fortunate to be here!
---

Sri Chaitanya Saraswat Math, Nabadwip
http://scsmath.com | Main Centres | What's New?
---