The Lotus Room @ Earth Garden
The Malta Centre of Sri Chaitanya Saraswat Math at Green Festival

10-11 May 2008
by Malini Devi Dasi
Page 1
|
Page 2
---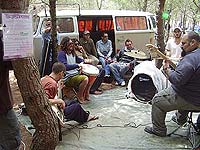 There was much going on during the festival. The venue included a kids' area, an electronic dance area, a world-fusion music chill-out area, an artists' area, a green organisations' area and various bars and food stalls. We put several laminated posters up on the trees, directing people to our area.


Our market stall and The Lotus Room holistic area were separated by a row of VW camper vans where a number of people gathered together jamming, using a variety of different instruments from all around the world.

| | |
| --- | --- |
| | |
| The Lotus Room was pleasantly peaceful - a refuge for those seeking something different. The book table attracted plenty of interest, and many dropped donations in exchange for our bhakti yoga pamphlet. | We also set up slide-shows and movies on a hired 37-inch LCD screen using a laptop and a DVD player. The table and the screen were tied to the tree because of the wind! |
| | |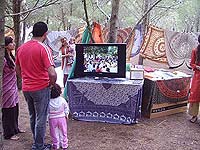 Several people were intrigued by the images and books, which gave us - including Lisa, who is also a hatha yoga teacher - plenty of opportunity to talk about the highest perfection of yoga and about Sri Chaitanya Saraswat Math.


Different individuals were interested in different aspects of yoga. Most people had the impression that yoga is just about asana and pranayama (postures and breathing). Others knew about, or had tried, transcendental meditation and mantra chanting.

| | |
| --- | --- |
| | |
| In order to upkeep the claim that The Lotus Room is a comprehensive yoga centre, we demonstrated a series of hatha yoga flows. | Jahnavi Didi (in red), a qualified hatha yoga teacher, guided both the practitioners and the inexperienced through the sessions. |
| | |
| | |
| --- | --- |
| | |
| The yoga flows were very graceful, simple demonstrations of concentration, balance and flexibility - the union of body, mind and spirit. | The public found this part of the programme fascinating and a crowd gathered, while all those who joined thoroughly enjoyed the experience. |
| | |
| | |
| --- | --- |
| | |
| Jahnavi didi demonstrated some advanced postures to a keen student... | And her daughter Jayanti felt inspired to do her bit too! |
| | |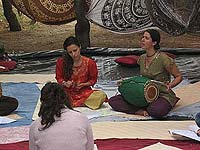 To demonstrate the highest perfection of yoga - union in separation with the Supreme Lord through devotional service - we began to chant.


With so many people gathered to observe our yoga-flows, including the national TV stations, people were more inclined to linger and even join us for chanting during seated kirttan songs and the mahamantra.

| | |
| --- | --- |
| | |
| I am only a beginner playing the mrdanga, and Jahnavi didi is also just learning the kartels, but nobody seemed to notice! | Indurekha Didi participates as much as possible, in between baby-sitting Jayanti in order to allow Jahnavi Didi time for planning and carrying out programmes. |
| | |
| | |
| --- | --- |
| | |
| Lisa selflessly gave all she could during the festival, smiling all the while. All those who participated felt it was a wonderful experience throughout. | Those who joined the chanting were intrigued by the unusual devotional songs in a strange language, but liked them. |
| | |
| | |
| --- | --- |
| | |
| The ones that joined our circle were genuinely interested and asked questions. They took our details and left us their email address to receive The Lotus Room's fortnightly Yoga Awareness newsletter. | The yoga-flows, chanting and interaction with people continued alternately throughout the day until the light began to leave the sky and the atmosphere of the festival changed accordingly. |
| | |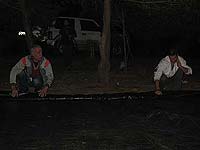 After sunset, John and David, Indurekha Didi's husband and son (who are also Jahnavi Didi's father and brother), packed the holistic area and performed several car journeys in order to carry away everything. Although not directly involved in yoga or spiritual life, both of them are loving people ready to serve to the best of their ability.
As the party gradually began to retire, Manuel, Lisa and I continued to linger until the number of people in the market area dwindled as a concert took precedence within the Greek Theatre. Finally we packed up and concluded with happy satisfaction in our hearts.
We pray that our beloved spiritual master, Srila Govinda Maharaj, may be pleased with these pictures and news, and that devotees world-wide may be inspired to join in the preaching efforts in Malta for the pleasure of Srila Gurudev.
---