Sri Chaitanya Saraswat Math Centers Worldwide
This is a partial directory listing of the more than 50 Sri Chaitanya Saraswat Math Centers, Temples, and Ashrams in various countries around the world:
India | U.S.A. | United Kingdom | Europe | Australia | South America | Africa | Other
---
International Headquarters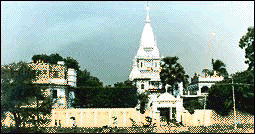 The Math at Sri Navadwip Dham, West Bengal, India
Sri Chaitanya Saraswat Math
Kolerganj, P.O. Navadwip
Dist Nadia, West Bengal PIN 741302
Phone: Navadwip 40-086
srimac-caitanya-sarasvata-mathavara-udgita-kirtir jaya-srim bibhrat sambhati
ganga-tata-nikata-navadvipa-koladri-raje yatra
sri-gaura-sarasvata-mata-nirata-gaura-gatha grnanti srimad-rupanuga
sri-krtamati-guru-gauranga-radha-jitasa
"On the banks of the Ganges in Koladwip, Navadwip, Sri Chaitanya Saraswat Math stands resplendent. The flag flies high, singing its glories around the world. There, the residents chant the glories of Lord Gauranga and aspire to serve Sri Sri Radha-Govinda in the line of Sri Rupa."
---
OTHER INDIAN CENTERS
Hapaniya

Sri Chaitanya Saraswat Ashram
Village and P.O. Hapaniya
Dist. Burdwan, West Bengal

Vrindavan

Srila Sridhar Swami Seva Ashram
Dasbisa, P.O. Govardhan
Dist. Mathura, Utta Pradesh
Phone: 0565-852195

Puri

Sri Chaitanya Saraswat Math
Gita Ashram, Bibhada Ashram Road
Gaur Batsahi, P.O. Puri, Orissa 752001
Phone: 06752-23413 ?

Calcutta

Sri Chaitanya Saraswat Krishnanushilana Sangha
487 Dum Dum Park [Opposite Tank 3]
Calcutta 700055
Phone: 551-9175

Sri Chaitanya Saraswat Krishnanushilana Sangha
Kaikhali, Chiriamore [Near Calcutta Airport]
P.O. R. Gopalpur, Dist. 24 Parganas, West Bengal
[Top] of Page

---
UNITED STATES OF AMERICA
California

Sri Chaitanya Saraswat Seva Ashram
2900 N Rodeo Gulch Road
Soquel, California 95073
Phone: (408) 462-4712
Email: maharaj@cruzio.com

New York

Sri Chaitanya Saraswat Math
883 Cooper Landing Road, Suite 207
Cherry Hill, New Jersey 08002
Phone: (609) 962-0894
Email: swamigiri@aol.com
[Top] of Page

---
UNITED KINGDOM
London

Sri Chaitanya Saraswat Math
15 Gladding Road, Manor Park
London, E12 5DD, U.K.
Phone: (081) 478-2283
Email: sbasagar@macline.co.uk

Ireland

Sri Chaitanya Saraswat Sangha
60 Glengariff Parade
Dublin 7, Eire
Phone: (000) 830-1624
---
[Top] | India | U.S.A. | United Kingdom | Australia | South America | Africa | Other
---
EUROPE
Rome

Sri Chaitanya Sridhara Sangha
via Dandolo 24, Int. 41/Scala B
00153 Roma, Italy
Phone: (000) 58-9942

Amsterdam

Sri Chaitanya Saraswat Math
Koningshoef 519, 1104 EE
Amsterdam Z.O., Netherlands
Phone: (020) 97-8602

Sri Chaitanya Gemeenschap
Sportstraat 48-I, 1076 TX
Amsterdam, Netherlands
[Top] of Page

---
AUSTRALIA
New South Wales

Sri Chaitanya Saraswat Sridhar Sangha
P.O. Box 196, South Lismore
N.S.W. 2480, Australia
[Top] of Page

---
SOUTH AMERICA
Mexico

Sri Chaitanya Saraswat Sridhar Mission
Reforma 864, Sector Hidalgo
Guadalajara, Jalisco, Mexico
Phone: (036) 26-9613

Brazil

Sri Chaitanya Saraswat Sridhar Asan
Rua Mario de Andrade, 108, Caucacia Do Alto-Cotia
Sao Paulo-CEP 06720-000, Brazil
Phone: (011) 721-1109

Venezuela

Sri Rupanuga Sridhar Ashram
Calle Orinoco, Ramal 2, Quinta No. 16
Colinas de Bello Monte, Caracas, Venezuela
Phone: (000) 752-5265
[Top] of Page

---
AFRICA
South Africa

Sri Chaitanya Saraswat Math
57 Silver Rd., Newholmes, Northdale
Pietermaritzburg, Natal, South Africa
Phone: (0331) 91-2026

Mauritius

Sri Chaitanya Saraswat Math
Ruisseau Rose Road
Long Mountain, Mauritius
[Top] of Page

---
OTHER CENTERS
Malaysia

Sri Chaitanya Saraswat Math

932 Taman Bernam, Tanjong Malim

Perak 35900, Malaysia
Phone: (05) 49-6942

Philippines

Sri Chaitanya Saraswat Math
Evangelista, 1002 A De Leon Street
Barangay Village, Paranaque
Metro Manila, Manila, Philippines
---
India | U.S.A. | United Kingdom | Europe | Australia | South America | Africa
---
We want to hear from you! Please send email to
maharaj@cruzio.com
Layout by
lcd
-
Copyright ©1995 Sri Chaitanya Saraswat Math