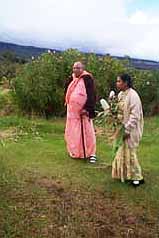 One vivid memory that stands out for me from Srila Gurudev's wonderful week here was the visit Sunanda Didi arranged for him to make to a protea flower farm owned by a friend of hers, Mrs Gordean Bailey. This very pious Hawaiian lady is also a well-known traditional hula dance teacher on Maui. I walked with her up the hill to where Srila Govinda Maharaj's car had brought him. She mentioned to me she knew he was coming, but she had been working in the gardens and was just wearing her old gardening clothes and a tattered straw hat.
[Right: Sunanda Devi Dasi shows Srila Gurudev
some large flowers growen on the farm.]
As she saw his radiant figure emerge from the car, Mrs Bailey was obviously a little nervous and expectant at the prospect of meeting a real saint. She had picked a beautiful bouquet of the large, startlingly dramatic flowers growing on trees and bushes in the surrounding acres of land. As Gurudev and some devotees strolled a little way down the hill from the top of the driveway, we approached him from below. As Mrs Bailey humbly came near him, arms outstretched with her bouquet of proteas, she began resonantly chanting a Hawaiian prayer, tears welling in her eyes. It was very sweet and moving, and Srila Govinda Maharaj listened with the most kind smile, giving his blessings.
When she was done, Srila Govinda Maharaj commented on the prayer, and asked what it meant. She replied that it was an offering of love from the land and its beauty, coming from the heart. He commented that he was very happy to be here in Hawaii, and visiting her farm. Srila Gurudev said that the flowers in this world are a reflection of the beauty which comes from God, and that she was tending this beauty. No doubt he knew that her flowers have graced the altars of the Math's centres, by Sunanda Devi's arrangement, and in praising her work, he was giving honour to her service connection.
Mrs Bailey mentioned that she had learned that the Hawaiian language has many similarities with Sanskrit, and that she subscribes to the belief that the Hawaiian people originally came from India. She asked him what her maiden family name, Kamamalu, would mean in Sanskrit, and he replied, "A garland of desire."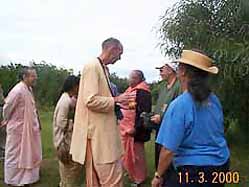 [Left: The protea flower farm.
Mrs Bailey is on the far right.]
Later, as we strolled with Srila Gurudev through the gardens and her dance studio, she felt familiar enough to engage in a joking banter with Sripad Paramahamsa Maharaj, saying she thought they looked enough alike to be brother and sister! We were all impressed with her good fortune in having our beloved Gurudeva's footprints turn her land into a place of pilgrimage. Later that day she brought her talented group of young dancers to the Banyan Tree House, where Srila Gurudev was staying, to offer a presentation for the pleasure of His Divine Grace.
They performed several numbers, both traditional and modern, to the accompaniment of their teacher's gourd percussion instrument and chanting. The children had decorated their heads and wrists with green garlands, and everyone seemed struck by their innocent beauty and gracefulness. There were comments between Sripad Goswami Maharaj and Srila Gurudeva about the forest flower garlands, and how this simple decoration is reminiscent of the mood of Vrindavan.
As the dancers completed their routine, their teacher gathered them up close to Srila Gurudev's lotus feet. He spoke some words of appreciation and blessing for their benefit while the devotees took videos and group pictures with all the dancers, their mothers, and the devotees surrounding Srila Govinda Maharaj. Finally, Prasadam was distributed. It was a very sweet day among many.
-Pushpanjali Devi Dasi
Hawaii
18 November 2000