Section pages updated: June 21, 2000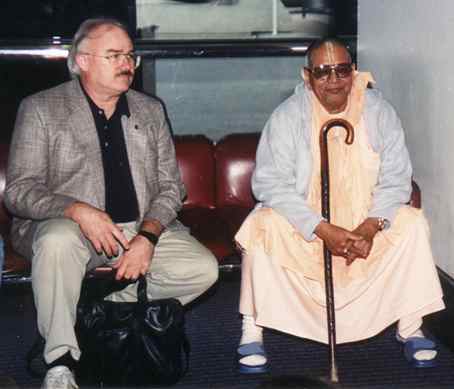 Sripad Rsabhdev Prabhu seated with Srila Govinda Maharaj
during the First World Tour of His Divine Grace,
---
June 21, 2000
Dear Devotees, Family and friends of Sripad Rsabhdev Prabhu,
Please accept my humble obeisances.
Now that the festival for Sripad Rsabhdev Prabhu's passing away has been so beautifully completed here in Nabadwip, we are posting this page to help share these recent special events that have taken place here.
Mahananda das B.R.
Nabadwip
June 21, 2000
---

Rsabhdev Prabhu - index | Announcement | Gurudev's grace | Festival and appreciation | Festival pictures | Earlier pictures
---
Math Index | What's New? | Book Table | Calendar
---

URL: http://www.scsmath.com/bulletin/memories/rsabhdev/index.html
June 21, 2000
Please send email to info@scsmath.com.