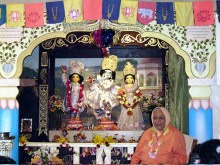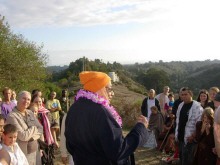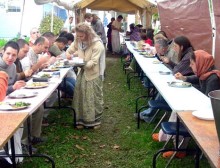 Above are a few photos from Srila Govinda Maharaj's recent World Tour and his visit to the Sri Chaitanya Saraswat Seva Ashrams in Santa Cruz & San Jose, California
2007: The Most Wonderful Festival !

Dear devotees and friends,

After three years, Srila Bhakti Sundar Govinda Dev-Goswami Maharaj, our beloved spiritual master and Sevaite-President-Acharya of the Sri Chaitanya Saraswat Math, returned to the beautiful Seva Ashram here in Soquel, California, to Their Lordships Sri Sri Guru Gauranga Gandharvika Giridhari Jiu and the devotees who were awaiting him so anxiously.

The 23rd World Tour, began with enthusiastic crowds of devotees receiving Srila Govinda Maharaj in Bangkok - Thailand, continued in St. Petersburg - Russia, Milan - Italy, Caracas - Venezuela and carried Srila Govinda Maharaj to Vera Cruz - Mexico to install the Deities, Sri Sri Guru Gauranga Gandharva Nandanandana, and finally brought Srila Govinda Maharaj to California on October 31st and continued ecstatically through his departure to England on November 26th.

Devotees had been awaiting Srila Govinda Maharaj, and had traveled from all over the United States. We were very honored to receive so many dignitary devotees from all over the world. With the arrival of Srila Govinda Maharaj and his entourage, the devotees became both enthusiastic to serve and very focused on receiving Srila Govinda Maharaj and his party, and joined together happily in Vaishnava seva, in receiving and honoring the many visiting devotees.

I personally had traveled with Srila Govinda Maharaj for approximately two months before returning to California, and when I arrived I was amazed to see how effectively everything had been organized in my absence. It would be impossible to mention everyone who worked so hard to make this festival successful, and I certainly wouldn't want to forget to name anyone among the many devotees who endeavored with so much energy and enthusiasm.

The devotees were working around the clock to accommodate and provide everyone with sumptuous prashadam; to decorate, beautify and clean the temple and ashram; to fetch so many guests from the airports, railway and bus stations, to serve His Divine Grace, and to please the many visiting devotees, guests, and friends. Still, I could not help but note that Sri Hasyapriya Prabhu was continually involved with his time and energy, and very attentive to so many details to see that everything continued smoothly.

My own impression was that the devotees became united in service and that this was the most wonderful festival I have participated in here at the Sri Chaitanya Seva Ashram in Soquel, California. Srila Govinda Maharaj himself expressed his satisfaction, and has remarked that it is his hope that he may again return here in the near future.

I wish to express my appreciation and gratitude to everyone who cooperated so earnestly in making this festival a grand success. Certainly everyone who did so has successfully pleased the Lord's most dear representative, Srila Govinda Maharaj, and also received the blessings of Their Lordships, Sri Sri Guru Gauranga Gandharvika Giridhari. It is our prayer that we may also again serve you, and receive you once again in this beautiful ashram, which is so dear to the heart of our beloved Gurudev. May we all become ever united in the service of Sri Guru and Sri Gauranga.

Affectionately yours,
Sripad Bhakti Pavan Janardan Maharaj
---

Our hope for many years has been to expand the facilities of the Soquel Seva Ashram. The limited guest and residential facilities here necessitate the building of a larger temple and additional guest rooms to serve the needs of the devotees. During the last year we hired many engineers and other professionals to help prepare the plans for this expansion.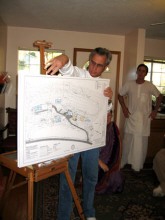 During his recent visit, we had the opportunity to show these plans to Srila Govinda Maharaj. Srila Gurudev again expressed his support and gave his blessings to our proposal. He assured us that Krishna would send us everything that we needed to make this project successful!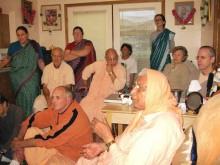 This will be an important year for our Ashram development. Next month we will be submitting our application to the County of Santa Cruz for permission to modify the use of our property to accommodate our development plans. Then over the following months we will have meetings with the neighbors and additional meetings with various county departments. If all goes well, by Gurudev's mercy we should have permission to start building by the end of this year!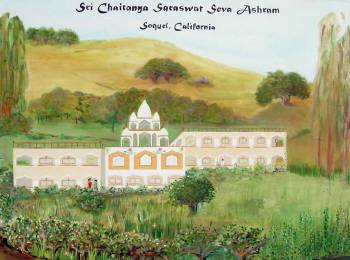 Artistic rendering of our proposed temple center.
Painted by Sushila Devi Dasi
Many devotees have helped with their time and money to get us this far. However, within the next 30 days we need to raise $25,000 for professional fees and county fees to submit this application. We humbly ask for your financial assistance to reach this goal. Here is a link to our Pay Pal account that can be used for your donations. Or visit our website at SevaAshram.org for more information.
With the support of Srila Govinda Maharaj and the help of our community of devotees and friends, we pray that we can help serve the desire of Srila Gurudev for the development of the Soquel Seva Ashram and the service of Sri Sri Guru Gauranga Gandharvika Giridhari.
---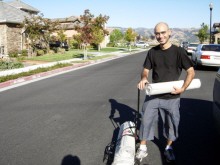 Temple Oil Painting Business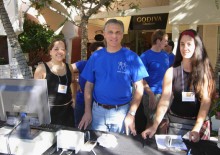 Pumpkin Patch Glass Art Fundraiser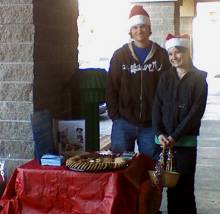 Cookie Table Christmas Marathon

Although I am unqualified, I was asked to write something about my service of collecting for the Soquel Seva Ashram, so I will try.
Our Gurudev has explained that the purpose of an ashram is to provide shelter for the devotees: to give them a place to congregate, to worship, and to distribute sukriti (good fortune) to the surrounding community. Srila Gurudev has given so many service opportunities; one of which is to collect for the maintenance of the ashram. This service benefits the person collecting and the person giving.
Every month there are so many expenses, more than most can fathom. On top of the general maintenance, we are trying to fulfill Srila Gurudev's wish of developing this property into a beautiful Vedic style temple that can facilitate many residents and guests. Srila Gurudev has guided us since the first design was proposed over nine years ago.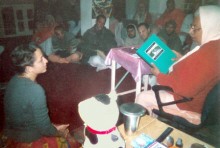 Presenting Srila Gurudev with a business report

Four years ago I asked Srila Gurudev for some instruction after finishing college. I was expecting to receive some general instruction about helping at the ashram here in Soquel. But he gave me a very specific order. He said to use my education to make money for the temple. With Sripad Janardan Maharaj's blessing, I moved into the Soquel Seva Ashram where I began working with the temple oil painting business and other collection projects.
I feel my life hadn't begun before this. I am constantly amazed by how sweet this service is. I have seen the most inspired side of devotees I have known for years and made amazing new friendships with devotees I never knew. Being guided by the elder devotees, I am always learning valuable lessons in service, collecting, and business. I am constantly being challenged and my heart is constantly being melted. I can honestly say I have never been happier!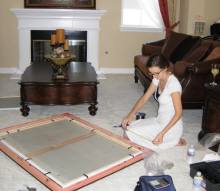 Sushila Devi stretching a painting.


This is a very exciting time! We are moving full speed ahead to build Gurudev's new temple. During Srila Gurudev's visit here at the Soquel Seva Ashram this past November; he gave his full blessings for this development project. And with His auspicious presence many devotees have become inspired to help and even stay. This year we have some new devotees to join our exciting team and we have many new ideas for the Ashram's businesses. I am more excited than ever.


I am full of faults and have no qualification to be writing this article but I feel so much gratitude for the opportunity I have been given, I can't help but share my heart.


Please forgive my offenses.


Your Servant,
Vaidehi Devi Dasi
Top of the page
---
Mailing List

If you know anyone else who would like to receive our Seva Ashram Newsletters please send me their email information.



Sushila Devi Dasi