Date: Mon, 21 Aug 2000 10:19:31 -0700 (PDT)
From: Hasyapriya Das, Moscow
Subject: Report from Moscow, Russia
To: Sri Chaitanya Saraswat Math <info@scsmath.com>
-------------------------------------------

Aug 21 2000
Dear Devotees,
The Russian devotees continue to astonish us with their dedication and grand arrangements. On Sunday Aug 20 a public programme was arranged in Moscow where over 300 people came to hear from Srila Govinda Maharaj and the other devotees. All the guests and devotees were so satisfied by hearing from Srila Govinda Maharaj and chanting and taking Prasadam. Then at the end of the programme, Srila Govinda Maharaj was presented with the latest publication - 'Sri Brahma Samhita' in Russian. Srila Govinda Maharaj was so happy and he then explained how important this book was for our practising lives.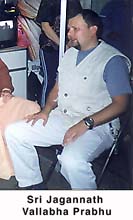 After the programme the devotees brought Srila Govinda Maharaj and over 150 devotees to attend the grand opening celebration of the first vegetarian restaurant in Moscow -- "The Jagannath Express". Under the management of Jagannath Vallabha Prabhu, the Russian devotees had just completed the renovations for their full service restaurant that also included a gift store and bakery.
The doors opened at 6:00pm and within two hours already there were long queues of people waiting to get in! Before the night was finished, over 2,000 guests came, including many famous people from Moscow, some movie producers from Hollywood and over 100 reporters from local and foreign newspapers, fashion magazines, TV stations and radio stations.
The festive atmosphere in the restaurant was enhanced by beautiful Indian and Oriental decorations. Music was playing, and everyone was very happy and honoured to be part of this grand celebration.
Srila Govinda Maharaj and his guests were served a fantastic 28 course vegetarian feast that included exotic dishes from Russia, France, America, Japan, India and many other places. Then when everyone was fully satisfied, Vijay Raman Prabhu brought Srila Govinda Maharaj to the adjoining hall where His Divine Grace cut the first piece from a 600 kg (1300 lbs) cake!
The Russian devotees have put so much energy into this business so that they can use the proceeds to develop and maintain their current centres in Moscow and St. Petersburg and future centres across Russia. This opening celebration was the premier event in Moscow that night and we could all easily see how it was just the beginning of a very successful business for our Russian mission.
All Glories to Sri Sri Guru and Gauranga! All Glories to all the Russian Devotees!
-Hasyapriya das