Ekachakra. Grand Installation Festival of Sri Sri Guru Gaura Nityananda at our Sree Chaitanya Saraswata Krishnanushilana Sangha, Ekachakra. Extensive webpage of pictures of this glorious occasion which attracted a total of 41,000 people over the three day festival.


Audio. Sri Nityananda Prabhu's Festival, and Ashram Inauguration address. From his veranda in Kolkata on the morning of 7 February 2009, Srila Bhakti Sundar Govinda Dev-Goswami Maharaj spoke live via the Internet to the assembly in Ekachakra celebrating Sri Nityananda Prabhu's Appearance Day and the inauguration of our new ashram there.


Download, or listen online (23 minutes, 5.5 MB mp3 audio)
or:

higher quality (11 MB mp3 audio).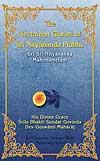 The Nectarean Glories of Sri Nityananda Prabhu. Book offered to the lotus hands of Srila Govinda Maharaj focusing on the glories of Lord Nityananda Prabhu and expanded from the Bengali book 'Sri Sri Nityananda Mahimamrtam' compiled by Sripad B.P. Tirtha Maharaj for Sri Chaitanya Saraswat Math and referred to by Srila Gurudev in today's Internet address to the assembly in Ekachakra.
This English edition is compiled by Kamal Krishna Prabhu from lectures of His Divine Grace Srila Bhakti Sundar Govinda Dev-Goswami Maharaj, accompanied by a compilation of Scriptural verses, kirttans, and Sanskrit compositions glorifying Lord Nityananda Prabhu. 96 pages, 4 monochrome pictures. The complete book is available here to download for private reading by the devotees (4.6 MB 'pdf' file).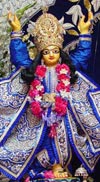 The Unlimited, Unconditional Mercy of Nityananda Prabhu, from a discourse by His Divine Grace Srila Bhakti Sundar Govinda Dev-Goswami Maharaj on the Appearance Day Festival of Lord Nityananda Prabhu, February 15, 2003. Nabadwip, India. Two webpages of articles.


Sri Nityananda Prabhu. Page prepared for the devotee children by Parama Bhakti Dasi. 213 K Acrobat PDF file.


Sri Ekachakra Dham: Grand Inauguration Festival of the new ashram, Sri Hadai Pandit Padmavati-devi Smrti Kunja, held on the auspicious appearance day of Sri Nityananda Prabhu. Prasad was distributed to over 50,000 people during this glorious festival. (Four web-pages of pictures and captions by Malini Devi Dasi.)