Service Opportunities:
Donations
London Temple
Cow Seva
Artists!

Sripad Bhakti Sudhir Goswami Maharaj's
Daily Darshan

Devotees' forum:
Home Comfort

Extensive Audio library maintained by Prabhu Madhusudan:
krsna.cc


October 24th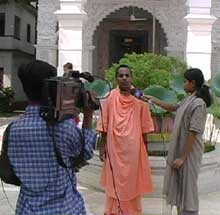 23 October: Sripad B.N.Acharyya Maharaj interviewed by NTV this morning in Nabadwip.
October 23rd

October 21st
Purnima. Saradiya Rasa Yatra of Sri Krishna. Disappearance of Srila Murari Gupta. Beginning of Urja-vrata, Damodara-vrata, Karttika-vrata or Niyamaseva-vrata if begun from the purnima day, as followed in Sri Chaitanya Saraswat Math.
October 20th

October 19th

October 17th
Bayanjali Maha-dvadasi. Fast. Disappearance of Srila Raghunath das Goswami, Srila Raghunath Bhatta Goswami and Srila Krishna das Kaviraj Goswami.
October 16th

October 15th
Vijay Utsav of Sri Ramachandra. Appearance of Sri Madhvacharyya.
October 13th

October 11th

October 10th